Why I changed my mind about adopting teens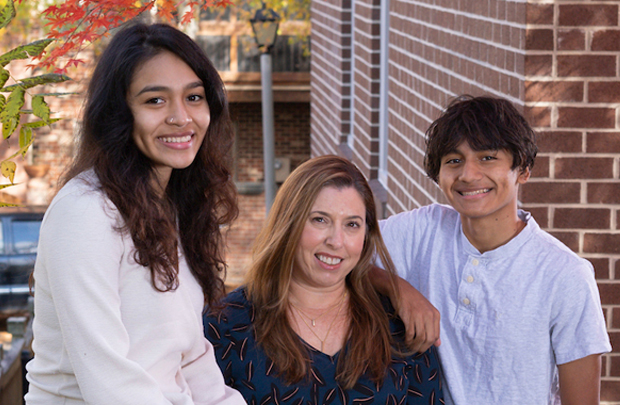 Heidi Kaplan thought she was living the life of her dreams. "I'd had success in my career and had just bought a new home."
Then a conversation with her mom prompted her to think about becoming a foster parent.
When she mentioned a friend who had adopted through the foster care system, her mom's response took her by surprise: "You should do that too."
A safe space for kids
"At first, I brushed off my mom's suggestion." Heidi said. "But then I thought about how my new home could become a safe space for kids."
Heidi decided to attend an information session, where she learned about county programs that supported foster parents. Respite care could make it possible for her to continue work travel. The county guaranteed placement for a child in afterschool care. "I'm a cautious person, so I came into the session with a list of concerns. In the first few minutes, the speaker addressed every one of them," Heidi remembers.
Heidi completed months of training to become a foster parent. After becoming certified, she received two consecutive placements of younger children. Both kids were reunited with their birth families, so adoption wasn't even discussed. She also provided respite care for other children.
Teens for three months?
After completing a 15-month placement and taking a few months off, Heidi called her social worker about another placement. At this point, she'd been providing foster care for three years. "I thought that my sweet spot was one child, a girl, who was elementary-aged," Heidi said. In September, the social worker contacted Heidi about a pair of siblings who needed a three-month placement. Heidi soon met 15-year-old Ana and 13-year-old Elian.
Ana and Elian were born in El Salvador and spent most of their childhood there, followed by time in the US, where they entered the foster care system in 2016. "I was uncertain about teens but decided that I could do anything for three months," Heidi remembers.
"I changed my mind about my parenting sweet spot"
At the end of three months, Ana and Elian asked Heidi if they could stay with her longer. "I realized that I was wrong about my sweet spot. Teens were great, and these were good, wonderful, and lovely kids, " Heidi said. She was won over by Ana's brave spirit and kindness, and Elian's big heart.
Making a family
After extending Ana and Elian's placement, the three began to discuss forming a permanent family through adoption.
Through the county, Heidi found a family therapist who specialized in adoption and foster care, and the family attended counseling together through the transition. "I was making a family in my 40s with kids who were in their teens, and therapy helped us communicate about it," Heidi said. "But with Ana and Elian, I had no big reservations. It felt natural, like a fit."
The adoption process took about six months from the filing date and was finalized in 2019. A network of support helped Heidi and the siblings through the process, including their foster parent support group, social worker, CASA volunteer, and the children's attorney.
Today, Ana is a first-year college student and working as a medical assistant. Elian is a high school junior who loves playing soccer on his travel team. Both teens are happy to be active and attending in-person school, after remote schooling and cancelled activities during the first year of the pandemic.
Supporting extended family ties
The family maintains ties with Ana and Elian's cousins who live in the area. Spending Christmas Eve together is a tradition, along with regular get-togethers. "The kids wish I could cook Salvadoran food a little better, but we have a local Salvadoran restaurant that's a favorite," Heidi said. The family plans to travel to El Salvador in the future.
Advice for prospective parents
Heidi has this advice for other prospective adoptive parents:
Your instincts will tell you if adoption is right for you.
Focus on how you connect with the child, before assuming they're the wrong age for you.
Build a support network, especially other families.
To parent teens, let them be themselves, but provide some guard rails and guidance.
People may think teens want independence more than anything, but most kids just want a safe place and a home.
"Parenting is work, but it's rewarding and all worth it," Heidi said.