"We needed to do more"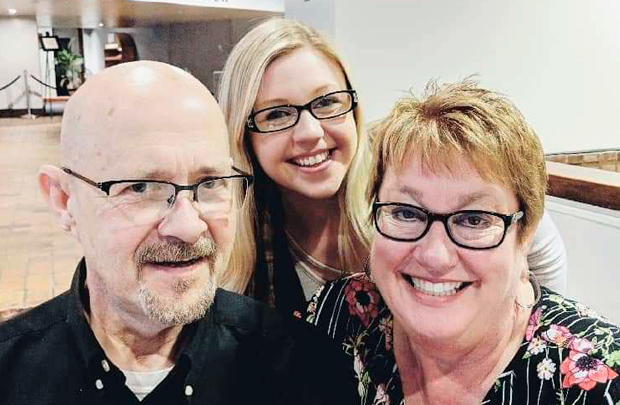 Rick and Phyllis Rainwater and their 25-year-old daughter Annemarie enjoy a tight bond. Annemarie visits almost every day and calls them daily. Yet, when the Rainwaters first became foster parents to Annemarie in 2010, they never could have anticipated the deep family connections that would grow.
Foster parenting to help themselves
The Rainwaters started fostering children in their Tennessee home in 1996, long before they met Annemarie. They wanted to help children in need, and also, says Phyllis, "to help ourselves." Two years earlier, they had lost one of their two sons to leukemia at age 17, and they hoped that caring for children in need might help soften their grief.
"We felt we needed to do more than what we were doing to help," says Phyllis.
Over the years their plan worked, and around 200 children have been placed in the Rainwater home, some for short-term emergency care and others for longer stays. One of those placements introduced the couple and their surviving son to Annemarie, who was placed in the Rainwater home in 2010 at age 15. It was her eighth foster placement, after seven others in the previous two years.
Seeing beyond a teenager's rebellion
Phyllis and Rick saw that Annemarie was struggling and was in emotional pain.
"She was a beautiful child and very sweet," Phyllis said. "She was also highly rebellious."
The Rainwaters were able to look beyond her rebellion to the person Annemarie was and is—they noticed her intelligence, her dedication as a high school cheerleader, and her pleasure in the outdoors as they took camping trips together. Over time, they felt that Annemarie wanted to be adopted and decided that they would ask her if she would become their child. They hoped that would also give Annemarie a feeling of stability.
"She had been hurt so many times we felt she needed the assurance that she was loved," says Rick.
But when they first sat down with Annemarie to talk about the possibility, she was "like a deer in headlights," Phyllis said.
Soon after, Annemarie ran away from home. She came back, but ran away again at 17.
"I was scared to give my heart fully to them because it might get stomped on like it had before," says Annemarie.
After that second time, Annemarie was moved to yet another foster home. Phyllis checked in with her, bringing her clothes and letting her know that she and Rick loved her and were thinking about her. When that happened, says Annemarie, it was the wake-up call that showed her that she belonged with the Rainwaters, and that they meant what they had said.
"I was scared of losing them," she says.
Supporting other families with fostering and adoption
Three weeks later, Annemarie returned to the Rainwaters, and they began the process of working toward adoption. Finally, in May 2012, they signed the adoption papers surrounded by family and friends.
Annemarie has gone on to get a degree in social work at Middle Tennessee State University and is now working at the nonprofit Youth Villages LifeSet program, which helps former foster and transition-age youth with life skills such as budgeting, time management, jobs, and more.
The Rainwaters received support and advice over the years from organizations including CASA (Court-Appointed Special Advocates) and the Tennessee Department of Children's Services, which sent a specialist to their house once a month to offer advice and a listening ear.
"That was really helpful for us," says Phyllis. They were also able to turn to their friends, church community, and family members.
The joy they've found in gaining a daughter far outweighed all the struggles.
"Rick and I talk about this a lot," says Phyllis. "I want people to know that I can't imagine our lives without this child. It doesn't make any difference if we're not the same blood—we love her so much."
Want to read more about the Rainwater family? Read our interview with Annemarie.