Transracial parenting resources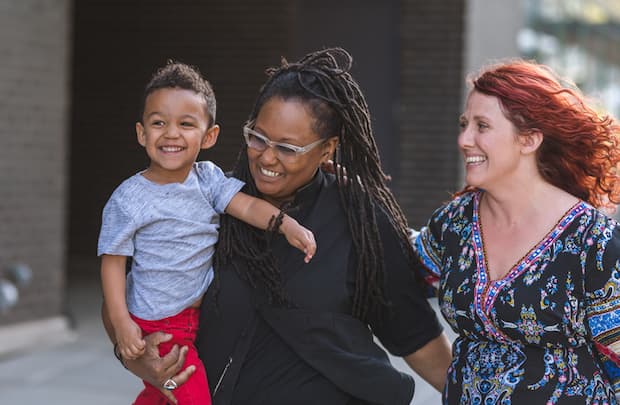 In the AdoptUSKids article "Advice to parents adopting a child of another race," JaeRan Kim—assistant professor in the School of Social Work and Criminal Justice at the University of Washington, Tacoma—writes about her experience being adopted from Korea.
She shares, "My parents were supportive and open about my adoption, but my Korean culture and recognition of my Asian American identity were not part of my life growing up. Like many people of their era, and unfortunately, still some today, my parents thought that being 'color-blind' equated to being non-racist."
Are you, like JaeRan Kim's parents, caring for children or youth of another race or culture? If so, the below resources are for you.
Most of these books, online resources, and podcasts are specifically for white parents, as the majority of transracial adoptions are of white parents adopting children of color. These resources will help you support your child or youth's well-being and development of a positive racial and cultural identity.
Podcasts, blogs, and social media from transracial adoptees
Transracial adoption resources you can find online
On the Transracial and Transcultural Families page of the Adoptive and Foster Family Coalition of New York website, you'll find resources on cultural competency, racism and microaggressions, and international adoption support.
The North American Council on Adoptable Children has a Transracial Parenting page with articles, including "Being Anti-Racist: A Critical Way to Support Children of Color in Foster Care and Adoption."
Transracial parenting books
AdoptUSKids recommends the following books for parents on the topic of transracial parenting.
Black Anthology: Adult Adoptees Claim Their Space, by Susan Harris O'Connor and Diane Rene Christian
Black Baby, White Hands, by Jaiya John
Growing Up Black in White, by Kevin Hofmann
I'm Chocolate, You're Vanilla, by Marguerite A. White
Inside Transracial Adoption, by Beth Hall & Gail Steinberg
In Their Voices: Black Americans on Transracial Adoption, by Rhonda Roorda
In Their Own Voices: Transracial Adoptees Tell Their Stories, by Rita James Simon & Rhonda Roorda
Outsiders Within, by Trenka, Oparah & Shin
The Harris Narratives, by Susan Harris O'Connor
Are you a parent group leader? This resource list is pulled from our comprehensive guide for parent group leaders: "Supporting a positive racial identity for BIPOC children in transracial placements: a discussion guide."