Supporting sexual orientation and gender identity and expression in children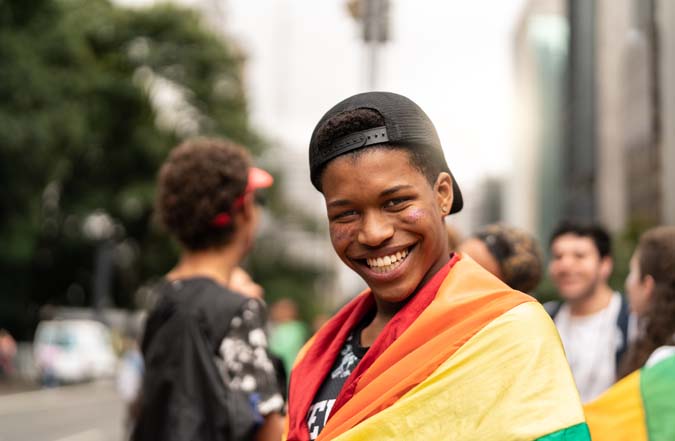 This is an edited excerpt of an article that originally appeared in the Adoptalk newsletter published by the North American Council on Adoptable Children (NACAC). We thank the article author, Laura Anderson, PsyD, for allowing us to share her insights and advice on our blog.
As a foster or adoptive parent, you know that all children in care have experienced trauma and loss. Children and teens who identify as LGBTQ+ face additional challenges, including rejection from birth families or previous foster parents, bullying within the system, and complicated attachment and identity journeys.
Many LGBTQ+ youth experience more than one disrupted placement, compounding the trauma. LGBTQ+ youth enter foster care at a greater rate than their peers and are less likely than other youth to find a permanent home, whether through reunification with their birth or kin families or through adoption.
For all of these reasons, it is critical for people who are fostering and adopting to be open to caring for and supporting youth who are LGBTQ+ as well as youth who are gender expansive and exploring different forms of gender expression.
We offer these tips and resources help you understand, support, and affirm the identities of the LGBTQ+ and gender-expansive young people who may come into your care and join your family.
Advocate at school and in the community
Research shows that students who are perceived as gay, lesbian, or transgender (whether or not they are) are much more likely to experience bullying than students who are not. Work with your child's school to help them understand what your child needs to feel safe, seen, and supported by finding out what the anti-bullying policy is and asking that it be followed.
It's important to help schools understand that private information about a student's sexual orientation or gender identity and expression is as confidential as any other piece of medical information. You can also find out if classrooms have books with gender-expansive protagonists and bring some in.
Schools and communities, both local and national, have the power to transform the lives and mental health of gender-expansive children, teens, and adults simply by using the names, pronouns, and accommodations (such as restrooms) that align with their gender identities, because these small acts communicate to a transgender student that they are safe and supported.
Be thoughtful about gender-related messaging
Gender stereotypes are all around us: boys play with trucks, girls play with dolls. Boys don't cry, and girls are sensitive. Many and most of us fall along a spectrum between those limiting extremes. Notice what messages you are sending all children about what you expect of them as boys and girls.
Look for gender-expansive and LGBTQ+ role models
More and more gender-expansive kids, teens, young adults, and elders are telling their stories, and parents of gender-expansive children are sharing their own experiences too. Finding people in the media or in your community who share your experiences or the experiences of your child can help both of you feel comforted, confident, and less alone.
If religious, find faith communities that are inclusive and affirming
You don't have to choose between being a family of faith and a family that supports your gender-expansive, transgender, and gay children. Resources and communities of faith that support and affirm children's gender identities are only a Google search away.
Say "yes" to the dress
Or the combat boots. Or the short hair. Many caregivers fear that they are setting their child up for ridicule and isolation—or encouraging a nontraditional gender identity—if they allow their child to dress or play in the style of what may be their true gender. But allowing your child to wear the clothes or play with the toys that they wish does not create an underlying nonbinary or transgender identity. Gender identity is inherent, so you can't create an underlying identity that wasn't already developing.
Note: Always consider safety first. Behaving in gender-expansive ways in some neighborhoods or settings may put kids at risk. Say yes whenever possible, but, when not possible, use these moments to make sure a child knows you support their choices in safe places, and to start discussions with them about how to read the world safely and make decisions accordingly.
Find a specialist to help you talk to your child about their gender journey or sexual orientation
A gender specialist is someone with a mental health or medical background who specializes in the assessment and support of gender-expansive kids and teens and their families. Together with kids and families, gender specialists can identify what kinds of support a child needs without steering the child in any direction. You can also explore family engagement programs in your community or online.
As you seek the help of a professional, do your research. Countless studies have shown that conversion therapy and other attempts at steering or changing a person's sexual orientation or gender identity or expression are ineffective and harmful.
Recognize the challenges and the joys
It can be hard to raise a gender-expansive, gay, or transgender child while navigating your innate judgments and the judgments of others. By recognizing your worries, confusion, or sadness, you can make room for the joy, understanding, and love that your child brings into your life. Walking this journey with your child can lend itself to a closeness that is distinct. You will meet people and visit places you might never have known otherwise. Never forget that there is hope, courage, and fierce love on this journey.
Don't do this alone
Gender identity is a complex thing, and while there are some toddlers who know easily and clearly what they need, most kids and families need neutral, informed guidance from professionals and the support of close family and friends. If you're reading this and you know of a family with a gender-expansive child, don't be afraid to reach out and ask them how they're doing. If you want to be an ally, advocate for open-mindedness and teach your own children the beauty of gender diversity. There is power in community.
The journey of gender and sexual identity can be long and complex, but it is also essential to increasing a child's mental and physical health and ensuring a brighter future.
Related resources
Laura Anderson offers more information for families in her podcast series, Real World Parenting.
Citation for the statistics in this article are found at Youth.gov.