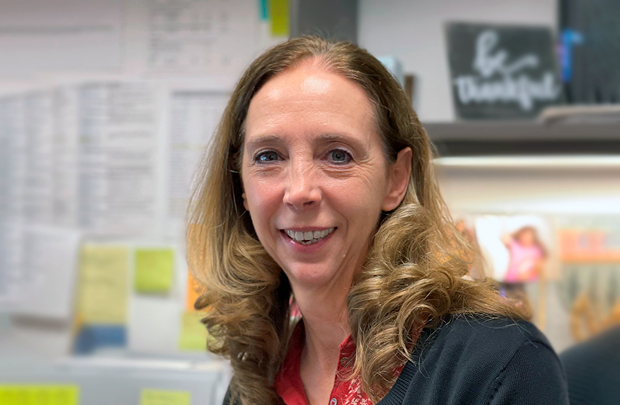 Trudy Tweedle-Cagle is an adoption worker in Minnesota. Tim Young, a father who adopted a brother and sister who were on Trudy's caseload, suggested that we feature her as an Outstanding Caseworker. Tim wrote:
"Trudy was very thorough, not only in placing the kids with me, but in making sure that I understood the challenges of adopting special needs teens out of foster care…Trudy was always there for us through the meetings, respite care, foster care, and our adoption day. She helped me navigate the long and complicated process, and I could not be happier…."
The father who nominated you was impressed by how thorough you were in the matching process. What was your approach?
My philosophy is matching families to kids, not kids to families. I spend a lot of time getting to know each child on my caseload—and getting to know each potential parent. It goes beyond formal meetings with them and can include things like talking with their friends and having a casual lunch.
You can learn a lot about people if you make the time. And I do. Because I want to be as comfortable placing a child with a family as I would be if it were my own kid.
What made you think that Tim would be a good fit for the brother and sister he adopted?
Each of them has special needs, and in talking with Tim, it was clear that he wasn't only open to meeting their needs, he was drawn to those qualities.
Also, Tim is a very outside-of-the-box thinker. He's creative in his approach to working with teens and can get to the meat of things in ways that they are comfortable with. With Tim, it's not the traditional: "How was school today?" but "Hey, let's go paint," or "Let's go play Wii…."
You have about 20 children—mostly teens—on your caseload. How do you find the time to develop the kind of relationships you're talking about?
It gets hairy! My service area is the entire state of Minnesota. So I go wherever our agency has placed a child for a pre-adoptive home. I also act as a surrogate parent to the oldest kids on my caseload, who are part of our extended care program that serves kids 18-21. I make sure they sure can pay their bills, get to medical appointments they need, and are generally doing well.
How do I find the time? Organization is huge. And working weekends is inevitable. But no matter what I do, I often find myself pulled in different directions. It's unavoidable.
You've been working for the county for nearly 10 years. What keeps you doing it?
Adoption work is demanding. But helping kids find a forever family that is the perfect fit for them is really exciting. Most of these kids come from really difficult situations. It's rewarding to see how much they can grow and how resilient they are.
It helps immensely that I work with extremely talented people who are very supportive. When I feel overwhelmed, my coworkers and supervisor are always there to remind me: "Whatever you get done today needs to be OK."
What is your advice to families who are planning to adopt?
Love and desire to help children are important. But that's just the beginning.
Get as much information about the children as possible as you move through the process toward adoption. And learn as much as you can about trauma and mental health issues that kids are dealing with. There's always new information out there, because our understanding of how children's brains work is constantly evolving.
Have a strong support network, and know what resources and services are available to help. Your worker should be able to point you in the right direction, and there are a lot of good resources online too.
Learn from the experience of other families, like Tim's. They'll tell you that it's not always easy, but it's worth it.
Are you considering adoption from foster care? Read about the 120,000 children who are waiting for families.