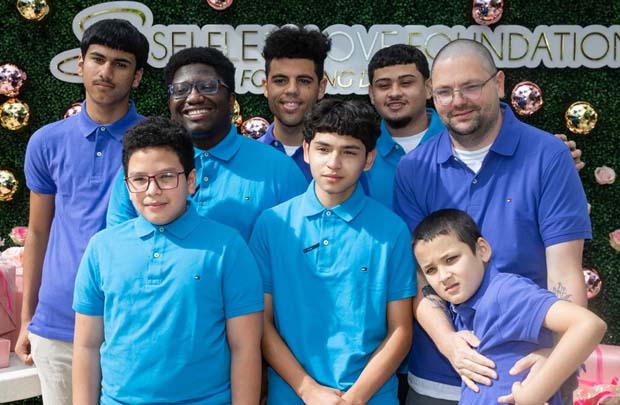 In this guest post, a single father talks about why he ensures that the children he adopted stay connected to their birth families.
On the day I write this, I am a proud father of six spectacular boys through the gift of adoption.
By the time you read this, I will have added a seventh—and perhaps an eighth—child to our family.
I am a high school teacher and got licensed to foster in 2008 so that I could take in one of my students who'd come into care. He eventually went home to his birth family. And I thought: "Well, that's the end of that, the agency will never call me—a single, 28-year-old man—again. But they did!"
Over the last 12 years, I've fostered at least 200 children and adopted six sons who now range in age from 15 to 25.
Edwin was my first adoption. He was in and out of the system for almost 17 years by the time of our adoption. He is a recent graduate of Florida State University.
Lawrence was my second. He was 17 when we finalized. Like Edwin, I got Lawrence when he was 15. He had been in and out of foster care his entire life.
Giovanni, 20, was adopted at the age of 15, on Christmas Eve. What a special gift he has been.
John, 18, and Fabian, 16, were both adopted from therapeutic care.
Angel was placed in my home at the age of 10. It was supposed to be temporary. That was six years ago.
John recently moved back with his bio mother in Missouri. This was not a surprise, nor was it an unhappy transition. I'd been working toward that goal with him, his birth mother, and his therapist for more than a year. Because John is an adult, and reunification was his wish.
I never have viewed adoption as separation from the families of origin. It would be easy to fall into the "either-or" trap—it's your birth family or it's me. But when you do that, you create tension in the child. And frankly, that's a battle that an adoptive parent can't win.
My kids' bio parents are like our extended family. For the holidays, our home is filled with their siblings and other relatives. Bio moms and dads call regularly. I always invite them to the boys' events when possible. Several of my children have photos of their birth families on the walls of our house. Why wouldn't they?
Is this arrangement easy? No! Nothing worthwhile ever is. Sometimes birth parents and I have vehement disagreements. Often times, I have to make concessions or accept behaviors that I do not agree with. But usually, in the end, it works out because we keep the focus on the best interests of our child, on showing them that they matter and that people care about them. And when they realize that, they thrive and grow.
It doesn't take an army to turn a child's life around. It takes one person. And there is no greater reward than knowing you have been that person—that positive influence—that has changed the direction of a child's life.