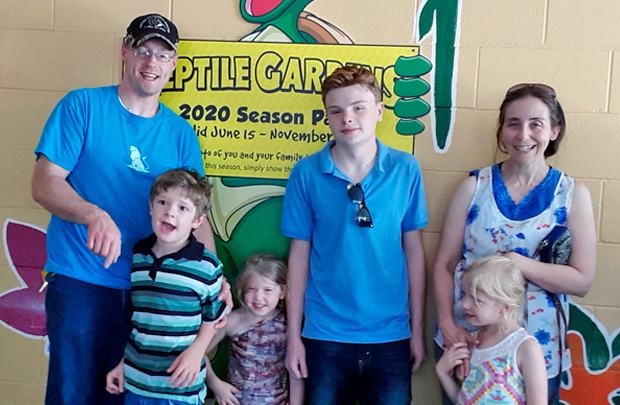 Jennifer and Greg Wolff were parents of a six-year-old girl by birth when they adopted their son, Keon, from foster care in 2007. Looking back, Jennifer realizes that it was a dream adoption.
"Keon lived in the same small Oregon town that we did. He had been in the same loving foster home from the time he was 18 days old until we adopted him when he was two. The entire process only took about five months."
So when they decided to adopt again, Jennifer and Greg thought, "We can do this. It's no big deal!"
Since they adopted Keon, Jennifer and Greg had moved from Oregon to Montana. They got re-licensed, and started their search.
"It was exhausting! I would spend hours every week going through sites. I had a system: On the first day of the week, I would go through the A states. Second day—no B states, so I got a break! Sometimes we got close—painfully close—to being chosen. Other times we never heard back," Jennifer said.
At one point, Jennifer and Greg were selected for a little girl in Washington State. They traveled to spend a week with her, and started the interstate adoption process as soon as they returned home. But the adoption fell through.
"We were so close. Our family was devastated," Jennifer said.
Last May, when their son was about to turn 15—and their 18-year-old daughter was about to have a baby—Jennifer and Greg decided to take a break from their search. They planned to spend the month of June praying about whether they should continue. Maybe their family was complete, and it was time to focus on their son's last years at home and new grandchild?
Just a few days later, Jennifer and Greg got a call from a worker who saw their profile online. Would they be interested in learning about three siblings—two sisters and a brother—on her caseload who were living in a shelter in Texas?
"I believe that God paved the way"
That worker's call came in late May. By June, they were being considered and learning about the children and their history from their workers, CASA volunteers, and others. They didn't hear about anything they couldn't manage:
One child was non-verbal—Jennifer is a sign language interpreter.
They'd all experienced trauma—they'd taken extensive training on the topic.
There were diagnoses of ADHD—Jennifer had experience working and volunteering with children with the condition.
The more they learned about the children, the more they felt that the match they had waited so long to make was meant to be.
On October 1, 2019, the Wolffs traveled to Texas to meet the children.
"When we walked into the shelter where they were staying, the younger girl turned to her worker and said: 'I want to meet my new mom.' Her brother came stomping down the stairs pretending to be a dinosaur and gave each of us a hug. We fell in love immediately," Jennifer said.
The Wolffs' workers started the interstate adoption process, and the children came to Montana to visit on November 1. Their adoption was finalized—via Zoom—on April 15 of this year.
After spending most of their life in foster care, the children—now—four, six, and seven years old—finally had a forever family.
Watching all the nevers fade away and experiencing unexpected firsts
Jennifer says that while many people talk about a honeymoon period when they adopt, she and Greg never experienced that.
"It was trial by fire from that first visit in Texas—complete with tantrums, sibling battles, and throwing up in the hotel room! We figured if we could survive those first three days, we could survive anything," Jennifer said.
In the last year, Jennifer and Greg have done more than survive. They've learned new parenting strategies and found resources in their community that are helping the children heal—and thrive.
"In many ways, they are different children from the ones who walked through our doors last fall. In those early days, when one of us left the house to run an errand, they were afraid we would never come back. They would never play together. My son was nonverbal and on medications. Therapists said he would never speak. Today, he's talking up a storm! It's so rewarding to see them progress and feel safe, and watch all the nevers fade away," Jennifer said.
Another reward—and surprise—has been watching the children take in new experiences—like watching fireworks, hanging stockings, or going to a parade.
"People who are thinking about adopting think about the firsts they might miss—first steps, first tooth…. We've been surprised by how many firsts we've gotten to experience with our children.
"I am so thankful that God knew the best timing and didn't let us give up. I am thankful for these beautiful children and am so honored that I was chosen to be their mommy!"
Read about the importance of keeping siblings together on our website.