Helping foster youth discover their dreams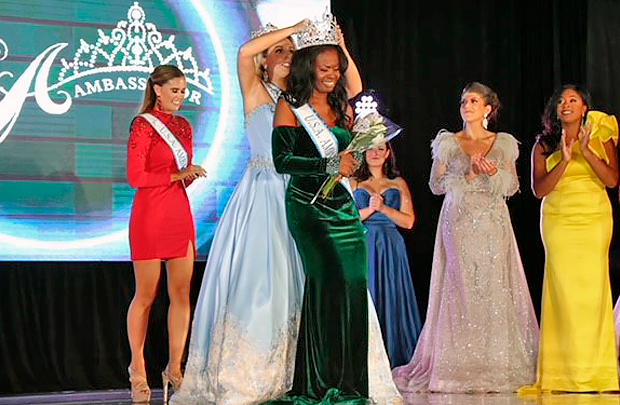 Every day after school, I would come home and watch "Northwest Afternoon" (NWA). It was a daily talk show that featured news and people in the community. One of their tapings featured talented kids. My eyes were glued to the TV as I watched the children perform.
On the show, there was a boy who was a dancer. He wore a gold sparkly vest with sequined red pants. I remember him twirling in circles with the biggest smile on his face. I thought to myself, "That is what I want to do. That is where I want to be—on stage."
Not long after that, I found myself as a guest on NWA—but for different reasons. My parent's rights had been terminated.
This meant I was now legally free. A family could now adopt me out of foster care. I was emotionally numb as I went on the show. Incredibly sad, really. What softened the blow was that my younger sibling was with me. And the staff went out of their way to help us kids feel welcome.
I had recognized a pair of brothers who had stayed in my foster home. They were funny, as always, and it was good to see them at NWA. I also made a new friend who was quiet and shy. I would later go on to see her in the new town I moved to when I left my foster home.
During the taping, I sat in the audience. The host walked up to me and introduced me. She asked me what I liked to do with my time, and I said, "Play Nintendo." Some of us were interviewed on stage while audience members phoned in, while others had pre-recorded segments. What initially was anxiety-provoking turned out to be a cool experience.
However, what I didn't expect were the reactions I received from my classmates. One girl said she didn't even know I was in foster care. I thought everyone knew. My foster parents had been in the community for years and had been seen with different children. I felt embarrassed for the first time about my situation. Especially with my parent's rights being recently terminated.
All I could think of was the boy dancing on NWA. I wanted to be like him. To be seen as talented and bright. Not as someone whose family was falling apart.
Despite this experience, I continued to dream big.
I was eleven years old when a foster parent asked me what I wanted to be when I grew up. "An actress!" I proudly proclaimed. Her eyes rolled, but I didn't care. She asked, and that's what I aspired to be. It was what I was going to do. I had envisioned myself being on stage with lights, talking to people. I didn't know how I was going to get there, but it was a vision I held close to my heart.
Throughout the years, I did drama club, participated in the news team, and played the clarinet. Any chance I could perform, I did.
Throughout my teen years, I became more enamored with pageants.
Whether it was the princess court from the Daffodil parade or Miss USA, it was something I wanted to do. When I was a 19-year-old college student, I finally had my chance.
I auditioned for the Miss Pierce County Scholarship Program (MPCSP) during my sophomore year in college. I had learned about it from a scholarship board in my school's student center. I called them right away and applied, nervous but confident. The room I had auditioned in seemed huge. It was at a school and sat about one hundred students. There were about eight MPCSP board members sitting right in the middle of the seats. I told them who I was and why I thought I would be a great fit for the program. I ended my audition with a dance routine. I later got the call I had been accepted!
At orientation, I asked my friend's mother, Michelle, to come with me. The other contestants and I got to meet the MPCSP board and current Miss Pierce County 2006. At the end, we learned about choosing a volunteer platform. This was a service project that meant something to us and that we could promote in the community. I turned around to Michelle and told her, "I want to help other kids who've been in foster care."
During the next two years, I volunteered at an independent living program, shared my story at community events, and even joined a state advisory board of foster care alumni. Though I didn't place when I competed in Miss Pierce County, the interview skills and stage presence I learned were invaluable. It was also an experience that confirmed the hopes and dreams I had.
After Miss Pierce County, I went on to complete my studies at Washington State University. I had decided to study broadcast news and become a reporter. I freelanced as a community member and later went on to work in a nonprofit. However, the desire to be on stage had not gone away.
With ten years having passed since my first pageant, I decided to compete again.
The dream of being an actress was still in my heart. I researched a few pageants and decided to go with the USA Ambassador Pageant.
What I liked about this system is that they were community service-oriented and celebrated the unique characteristics of each contestant. I knew in my heart I could use this platform to bring awareness to the needs of children and families in foster care. My message was that I wanted people to know they were not their circumstances and that they could go on to live a happy and fulfilled life. I competed for two years in a row, this time earning a first runner-up placement.
When I think about being a youth in care, I am thankful for the adults who accepted me and validated my dreams.
The third time I decided to compete for USAA, the COVID-19 pandemic hit. The pageant had been postponed for a year. But this did not stop me. I did everything I could do to prep, from weekly mock interviews to studying current events and volunteering in my community. When a coach asked me why I wanted the title of USA Ambassador Ms. 2021, I told him, "I was born to do this." He was stunned, but I believed in myself one-hundred-percent.
On July 31, 2021—my birthday—I stood on stage holding hands with my fellow USAA contestant. We were the final two. When they named the first runner-up, they did not call my name. I gasped and lifted my hands to my face. The emotions I felt were disbelief, relief, and ultimate joy. My dream decades in the making had come true in an instant. To know I had worked hard for a title that would forever be mine—there are no words.
For this last year, I have traveled the nation sharing the importance of supporting families who face crises.
I believe that when families feel seen and advocated for, they are empowered to make choices that help them thrive.
Years ago, after my parent's rights had been terminated, I ended up being adopted. I learned that for all youth—but especially youth in foster care—relationships are key. In fact, when I think about being a youth in care, I am thankful for the adults who accepted me and validated my dreams. This includes my foster parents, the Johnsons, who remained in contact with me even when I reached adulthood. I also think of the adults from my neighborhood and those I met in mentoring programs who I have maintained relationships with to this day. These connections make me feel like I belong and am accepted for who I am.
I have benefited from having a strong supportive network. After winning my title, I signed with a talent agency as a commercial actress and model. I recently was featured in commercials for Meta and Amazon. This would have not been possible without having loving people in my life.
Whether it's a child, teen, or young adult who has been affected by foster care, I recommend getting to know them. Like anyone else, they want to be heard and seen for who they are. This allows for relationships to grow and, most importantly, for youth to feel safe. I feel this paves the way for them to build their identity and figure out what they want to do in life. It's a ripple effect that allows for goal-setting and achieving one's dreams. And to me, that is something worth pursuing.