A dramatic adoption process leads to a dream fulfilled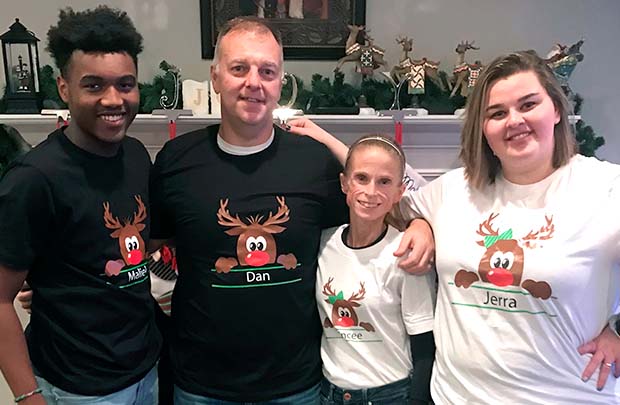 Vincee Merrifield and her husband are parents of a 19-year-old son they adopted from foster care five years ago. Today, he's off to college and the Merrifields are fostering with the intention of adopting again. We talked with Vincee about their family.
What made you decide to adopt a teen from foster care?
My husband and I could not have kids by birth. We started down the path of fertility treatments, but we decided to go through the foster system. Initially we were looking for young children, but that wasn't happening. And we learned about the need for families for older kids so expanded our search. Everybody needs a mom, no matter how old they are.
What was the matching process like?
Dramatic! We found our son through a local agency. At that time, he was 13 years old and had been in the foster care system for more than four years.
We inquired and went to an initial screening meeting, only to find out that he was going to be placed with another family. So we moved on and continued our search. Five or six months later, I saw him on the agency's site again.
When I saw that he was back in the system, I inquired about him again and he was placed with us. We fostered him for the required six months and adopted him when he was 14 years old.
What have been the greatest rewards?
When I picked our son up for the first time, I asked him: "What do you like to eat?" He didn't know how to answer the question, because nobody had ever asked him that before! He didn't go to school until he was eight years old.
In the last five years, he's traveled. He's excelled in school and in athletics—he was a three-sport athlete. He has a gajillion friends. He's become a "sneaker head"—a habit he finances with part-time jobs! Has he always made the best choices? No! But he is a resilient, strong young man who is a joy to be around.
In the fall, he'll go to community college, which will be paid for because he graduated from high school through his school's "A+ Program." I'm looking forward to seeing all of the things he'll accomplish in life.
What is your advice to people who are thinking about adopting a teen?
One great thing about fostering and adopting an older child is that you know what you're getting into. With a baby, there are so many unknowns. You don't know their personality or what kind of conditions might pop up later. With older children, you know their background and their needs and can be better prepared to meet them.
Is it all roses? No. Kids are kids. They are not perfect, and neither are parents. There will always be bumps in the road. But there are many blessings that come with the challenges—and the tremendous reward of seeing a child grow and thrive when they are given love and security.