A chance to make a difference—in the lives of nine children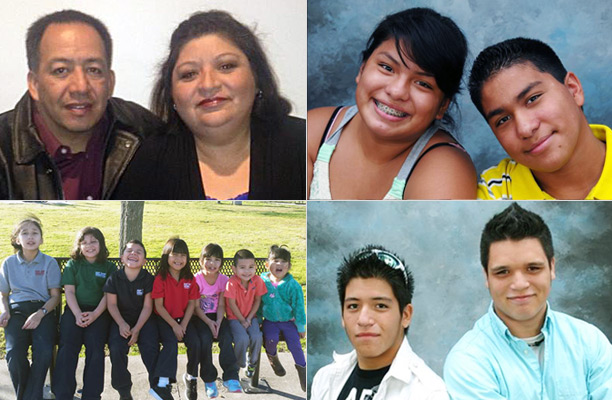 Rachel Martinez DeLeon's journey to adoptive parenting began with her mom's home cooking.
"Neighborhood kids always showed up when my mom was cooking. Everybody loved her homemade flour tortillas, and she had no problem feeding the neighborhood."
Rachel inherited her mom's generous spirit. While dating her high school sweetheart, Ricardo (Rick) DeLeon, she dreamed of someday adopting kids from the foster care system. Today, Rachel and Rick are parents of eleven, including nine adoptive children.
Waiting for the right time
After marrying and raising two sons (Daniel and Ricky Jr.) into their teenage years, the couple agreed that it was time to adopt.
In 2009, they began providing respite care while completing their foster parent licensing. That June, two girls came for a respite stay. They all bonded quickly. Within two months, Rick and Rachel received their license. On that very day, the two girls returned to the DeLeon home, along with their brother.
A family grows—fast
"I felt like I had triplets," Rachel remembers. Everyone in the family pitched in, and church friends helped too. The following year, the DeLeons finalized the children's adoption on National Adoption Day.
Although Rachel and Rick were extremely busy with family life, they soon learned about the plight of a teen brother and sister, described on the TARE (Texas Adoption Resource Exchange) website. The fifteen-year-old twins had been in the foster care system for ten years. Now, their foster home was about to close. "This was our chance to make a difference for these two teens," Rachel remembers.
The twins joined the DeLeon home in March 2012 and were adopted by the DeLeons that September. The DeLeons worked hard to build trust with the teens through consistency. "Even so, it took a year for the twins to believe that we would not abandon them," Rachel says.
Another sibling group
Believing that their family was complete, the DeLeons let their foster parent license lapse. In October of 2014, their caseworker called about a group of four siblings, who were in a group facility and awaiting a foster home.
Rachel and Rick could not say no. They renewed their foster care license, and the four children joined their family two months later.
Rick and Rachel now had a wealth of parenting experience, and the kids blossomed. With joy, the family celebrated the siblings' adoption in July 2015. The children's youngest sister, who has a different birth father, also lived with the DeLeons for a year-and-a-half. She is now reunited with her birth parents.
Advice for prospective parents
Rachel now helps other adoptive parents by speaking at foster parent orientation meetings. She has some heartfelt advice:
"This calling might not be for everyone, but it wouldn't be in your heart if it was not for you."